VICTORIA GROVES REAL ESTATE MARKET REPORT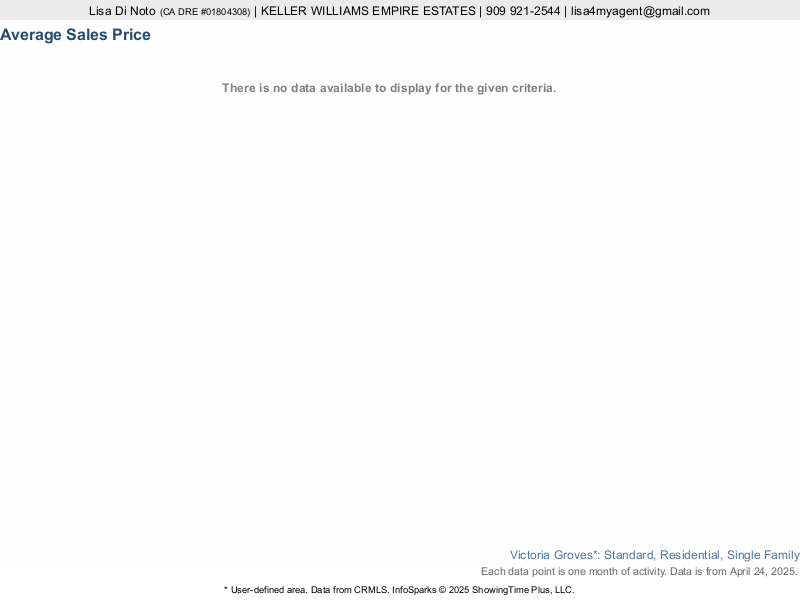 VICTORIA GROVES RANCHO CUCAMONGA
Victoria Groves is located in the city of Rancho Cucamonga, near the 210 freeway at the Milliken exit. The beautiful San Gabriel Mountains serve as a backdrop for this area and one of the best features about Victoria Groves is the breathtaking view of the mountains on almost every street you turn.
Victoria Groves offers a fabulous city park which includes 7 picnic tables, 6 barbecues, a children's play area, baseball diamonds, basketball courts, playground areas, and an exercise course for staying in shape. It's the perfect place to host a picnic, take long walks, or enjoy the mountain views.
Victoria Groves Elementary School, of the highly sought after Etiwanda School District, is also located here, making it quite convenient for a family with elementary school children.
VICTORIA GROVES REAL ESTATE AGENT
The Lisa DiNoto Group is pleased to be a part of the Victoria Groves community. When you choose the Lisa DiNoto Group, you are choosing real estate agents who are committed to keeping your best interests in mind when it comes to your real estate transactions. They create the win-win situations that make dreams come true.
The Lisa DiNoto Group is known for their uncompromising dedication to client satisfaction, strategic planning, Internet marketing, and integrity. They are experienced negotiators who will deliver the positive results needed to make your transaction a success.
Lisa DiNoto is the backbone of the Lisa DiNoto Group, and she's been a real estate agent in the Rancho Cucamonga area for over 8 years. In addition to being an expert in the Victoria Groves Community, Lisa is also a specialist when it comes to investment purchasing, relocations, trustee sales, probate sales, first-time home buyers, and luxury homes. If you're buying or selling in Victoria Groves, call or text Lisa today! 909-921-2544
VICTORIA GROVES HOMES FOR SALE